Cari amici,
We would like to thank you very much, also in the name of Maria's family, for saying goodbye to Maria together with us and her family here in San Martino on Saturday the 30th of April 2022.
Many thanks also to all those who could not come and were at home thinking of Maria, her family and us.
We would like to thank everyone who supported us in organizing the day in Maria's sense; thank you for the comforting words, the hugs and the shared tears.
Even though Maria and Andrea are no longer physically in San Martino, their spirit lives on in all of us and in San Martino.
San Martino will continue to be a place to meet and a home for all friends.
Thank you Maria and Andrea for this wonderful and unique place.
Warm greetings from San Martino
Paola, Elisa and Buba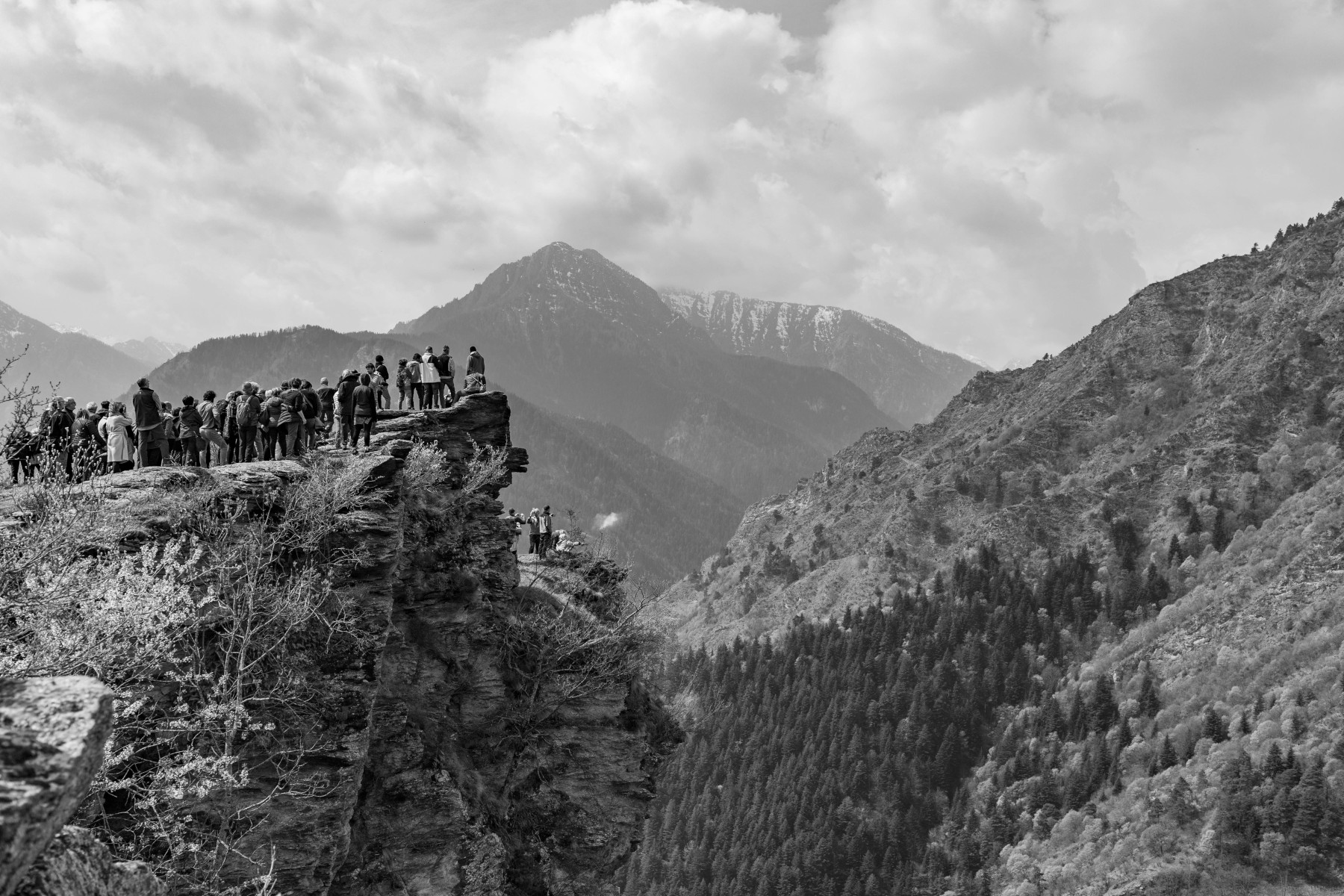 A speech by Dierk Röschke
Cari Amici,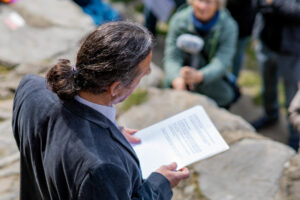 this is how the Centro Culturale's Christmas letter began every December. I hope I can greet you in the same way.
Many of you knew Maria longer, better, closer than I did. I hope I will do justice to the undeserved honour of speaking to you here.
Maria was a political woman. A woman with attitude.
The internet address of the Centro Culturale is www.borgata-sanmartino.eu. That was important to her. When she organised our wedding in Stroppo, her motto was: "This is Europe!"
She got involved in India.
People from all over the world have worked or are still working in San Martino: from China, from Guinea-Bissau, of course also from Italy.
Do you remember the Pace flags, also here in San Martino? Maria was born just after the Second World War. It was good that she did not have to live through the war in Ukraine.
Maria's message: It is one world – and may we all live together in peace. And we start here in San Martino.
A Maira Valley with soft tourism was always her vision. She was very critical of ski lifts, mountain bikes, e-bikes.
Maria was an entrepreneur.
She was a woman of action, of realisation, of words to deeds.
Even as a young woman she had a 3rd world shop in Cologne with goods from Afghanistan.
In her old age she built and ran an Ayurveda hotel with partners in Kerala / India.
But her and Andrea's life's work is San Martino inferiore. The beginnings in Valle Maira with the language school are known to many of you.
This was their home. It is wonderful that we can say goodbye to her here today.
Andrea and Maria have rebuilt and revitalised this place. She put a lot of money and heart and soul into building and maintaining San Martino.
Maria was a hostess.
She wanted the guests to feel at home in San Martino. As a hostess, you have to want that from the heart – only then does it work. If your main concern is to make money, then it doesn't work. That was her philosophy.
When the guest room was still upstairs in the main house, all the guests sat at one table. You came and still come into contact with exciting, great people while having dinner together. This concept has essentially been retained in the new restaurant. For me, it is a secret of this place.
The food was and is one of the highlights in San Martino. That's the way it has to be in Piedmont. In the first years, Sandra and I always wrote down the menus. And special requests like "vegan", "vegetarian" or "gluten-free" were and are always catered for. Because the guest should be happy.
What was also important to Maria: perfect cleanliness.
And: all the guest rooms are lovingly and individually designed and decorated. You have to walk through San Martino with your eyes open – and you will always discover something new.
San Martino inferiore is a cultural and meeting centre – Centro Culturale Borgata.
There have always been concerts, exhibitions in its own gallery, outdoor installations, big parties. Maria wanted us to have a big farewell party with music in her honour.
But what is art and culture without people who enjoy it? It was even more important to her that people could meet here.
As the German philosopher Hans-Georg Gadamer says? "Work separates, celebration unites." In work, there are many things that can divide us. In art, in celebration, we come together again and celebrate our connectedness.
It is so wonderful that we meet here today. What would Mary say to us now? Perhaps she would like the lines of Henry Scott Holland:
"Dead is nothing at all: I merely slipped over into the next space. I am I, and you are you. Why should I be out of mind just because I am out of sight? Whatever we were to each other, we are still now. Play, smile, think of me. Life means even now all that it has meant elsewhere.
I am waiting for you, somewhere, very close to you. All is well."
Maria loved animals.
Her Bergamaskers Fiume and Luna will always have a place in our hearts. At our wedding they lay in front of us under the table with their little bells jingling. I remember going with Maria to the vet every day in late autumn with her sick dog Tita. Or her cats, whom she loved so much. And Leica doesn't hear and doesn't see – but she still has great fun going on walks. And she always took a critical interest in the fate of the other animals – be it the handling of donkeys, horses or other animals.
Maria loved people. She loved us.
There must have been a reason why Maria studied social pedagogy. Unfortunately, I don't know it. But people were her real vocation. She spared no effort to meet people. I can only tell you about my own examples: She came to Bavaria for my 50th birthday, she received Sandra in the middle of the night at the airport in Kerala.
With Maria, everyone got their chance. No matter if it was an Italian diplomat in midlife crisis or a refugee from Africa. She accepted and loved each of us with our idiosyncrasies. Especially and even when she was upset with us.
Maria was not only looking for harmony, but she could also assert herself or be poisonous at times; she dealt with all of us. When a young person was on holiday here with his family, she would ask: "What have you done wrong to have to come here?" Or to my cousin, "Now look, get on your own two feet." And at the same time she loved him for his wonderful violin playing in Elva church.
She generously supported many people, gladly and often girls and women. Maria loved us all.
How shall I end?
Conversation, dialogue, meeting people were the most important things to her throughout her life – until the end. And she created this place so that we can all meet.
Maria – thank you for your love – thank you for what you have created for us.
In this sense: Here's to love and life – until death and beyond.
Dierk Röscke
A speech by Roberto Tomasini
MARIA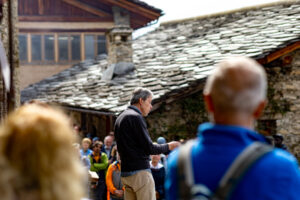 ​
For me Maria is music. She has always surrounded herself with music and musicians, she has called us on every occasion and we have always willingly come here to play. Countless times, small and large celebrations, welcomed with generosity and friendship, unique moments.
For me, Maria is the world I do not know but which I have come to know thanks to her words. The trips to the East in times when travelling was really an adventure, to places that have now become difficult but which for her and those like her and Andrea were an irresistible lure.
For me Maria is the conduit for getting to know the people of the world. Thanks to her, I have met, I got to know in depth and I appreciated the inhabitants of faraway places, gathered here and attracted by the place and its idea of living together.
For me Maria is an entrepreneurial ability, able to see and understand before others what a lucky part of the world we live in, when terms like Albergo Diffuso and slow tourism had not yet entered our lexicon.
For me Maria is an older sister, of the generation that tried to imagine a different way of living and relating to others, and succeeded. And she showed us, concretely, that it was possible.
For me, Maria sometimes has an edgy character, not always inclined to compromise, perhaps Teutonic. But this has never bothered me, it has never affected my affection and admiration for her.
For me, Maria and Andrea understood more than others the importance of relating to the locals, learning Italian quickly and well and opening up to everyone, even the most diffident. They have never been a separate reality, but always very well integrated into the social network of the area. Not out of convenience but out of natural humanity.
For me, Maria is an admirable example of strength and dignity, right to the end.
For me Maria is here with us
Tommy (Roberto Tomasini)
A speech by Ivo Graf
Thoughts on saying goodbye to Maria Schneider on the occasion of the scattering of her ashes
We say goodbye to Maria.
For almost 25 years I met Maria in San Martino at least one week every year. I had exciting and intense conversations with her and philosophised about God and the world, often also about the future of San Martino. At my last meeting in October 2021, we talked a lot about dying.
Maria was a soulmate friend for me. She loved people! She accompanied and supported many people in difficult life situations. These were able to recover and recharge at San Martino.
Maria put all her love and energy into this beautiful place. The garden, the houses and their rooms bear Maria's loving signature and bring joy to the people. Maria also loved the nature and the animals with all her heart.
In the summer of 2017, she wrote to me:
"I want to live and spend the last part of my life happily in this wonderful place".
Unfortunately, she was attacked by the insidious disease ALS.
But I am happy that she was able to let go and to die lovingly accompanied and cared for without pain.
We too now want to let go of Maria by scattering ashes in the heartfelt place of her life, in accordance with her wishes.
I am convinced that her good spirit will continue to work here at this place of strength, San Martino inferiore, for the people who come here.
May the soul of Maria live in eternal happiness and peace!
Ivo Graf